Brief biography of Lermontov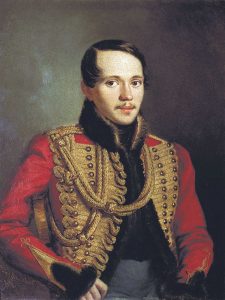 M. YU. Lermontov was born in October 1814 of the year. City of birth and the first days of life was Moscow. Eight days after the birth of the future poet was baptized. Rhode Lermontov had Scottish ancestry with Polish roots, one of his ancestors entered the service of the Tsar Mikhail Fedorovich. The appearance of the newborn was happy grandmother, Elizabeth Arsenyev (A daughter. Stolypin). She will take care of Misha lifetime. He was her only grandson, it is completely focused on his upbringing. Elizabeth was the wife of Mikhail Vasilyevich Arseniev, with which they have settled in the village Tarkhany. M husband. Arsenieva, the only daughter of Elizabeth Alekseevna Arsenieva (1773-1845 gg.), was Yuri Lermontov.
poetic talent of the family was not happy. Yuri Petrovich soon lost interest in his wife, was close to other women, I did not appreciate the marriage. Already in the adolescence in Michael loomed artist: described in the writings of the essential problems of the family, constant quarrels. Misha's mother, Maria M., He died at age 22 of the year. He grew up without a father in the estate of her grandmother, full of family warmth is not experienced. Childhood was to be held in the village Tarkhany (Penza province), which I have decided to bring his grandmother. Even as an adult, he tried to visit their homes, using vacation.
Lermontov's poor health has developed in him a strong moral energy. For Arsenieva grandson was discharged French doctor. Restrictions on moving amusements forced to read a lot and fight disease. Such children are always easy to learn. All this gave rise to the main theme of Lermontov's style – disappointment. In his creative mind had a lot of mysterious talents, something he inherited from his ancestors. This is evident in his poetic works. From a young age he was fascinated by reading fiction books, This helped the family library. He read the classics without translation.
Moving to Moscow
After Mineralnye Vody, where he was treated, grandmother brought him to Moscow. He waited university boarding school. Due to the guesthouse of noble ladies, he distinguished himself in mathematics, drawing, play instruments. But the main – he inculcate a taste for literature. 1830: Moscow guest house has been converted into a gymnasium. This year has been significant: He spent the summer on the estate Stolypins relatives, and in September she became a student at Moscow University. Thanks to university education and environment Lermontov plunged into all the delights of life. Michael is involved in parties, where poets were. He attends balls and masquerades, it can be seen in secular circles.
Moving to Saint Petersburg
Since the summer 1832 Lermontov, the longer the number of students leaving university and walls. Cause uhoda controversial, among the explanations – disinterest, disputes with Moscow University professors. Lermontov arrives in St. Petersburg, He decides to go to university. But two years did not give Moscow the right to become juniors. To go on the first course he did not want, therefore credited to the St. Petersburg school of ensigns Guards.
Experts say creativity, that for two years, conducted at school, he did not create the grand. Person, addicted to army atmosphere, I could not create the brilliant fruits. Lermontov's verses tell of fun, Junket, not very moral dreams. They found vulgar jokes, that a lot of fun at the audience revels cadet. Guard gave him a military bearing, but rates have brought harm: In the first year he was injured horse.
AT 1834 year training ended. Ensigns of the Guard, he hit the Hussars. He was waiting for the Life-Guard (hussars) and a farewell to youth. Become a cornet Hussars – grandmother dream. 1835 year was the debut of the poet in the big literary world. Since then, the publication of the poem was already a regular.
The death of Alexander showed to Lermontov's talent: on Pushkin's literary horizon blazed new lyrical star. Pushkin's duel with Dantes was the impetus for the glory. A verse "Death of poet" He served as a pretext for detaining, Michael was arrested, then held court. Lermontov lucky, he was helped by Zhukovsky and relatives. After his arrest, he was transferred to the dragoons and sent to the Caucasus link. She was short, grandmother cares yielded less dangerous service.
Caucasian link
Caucasus inspired with great force, but the work was not clear to everyone contemporary. Familiarity with Tiflis and stay in the mountains prompted a desire to learn Asian languages. There will be born of his best lines, much in the stories steeped in the spirit of the mountains, there are motifs of ancient customs. Mountain Steel gentle poison, which could permanently poisoned his fine soul. Due to the Caucasus was an acquaintance of the poet with Belinsky.
first duel
But he was drawn to St. Petersburg, where he returned with joy and. The city has always needed a secular talents. After returning to his views even more changed. Lermontov – wonderful playwright, He was highly appreciated by the poet in. BUT. Zhukovsky. In the capital, he met with a number of writers in the house Karamzin. In February 1840 year Lermontov was on the ball and had quarreled with the son of the French ambassador. Ernest called genius to a duel, By a happy coincidence Frenchman missed. The bout ended with Barant new reference. No precise information – how many times my grandmother came to him in the Caucasus without the knowledge of the authorities.
There he participated in clashes. Link gave a fresh surge of creativity, thanks to the novel "Hero of our time" and marvelous lines "Tamani", he established himself as a fine writer. He communicated with the heroes of the war against the proud highlanders. One of the last of its service – Tengin Infantry Regiment. Lermontov wanted to devote himself to literary fishing, because the collections were published regularly, his lyrics are printed magazines. But my grandmother did not allow to leave the military service.
The second duel and death
Summer 1841 It took place the fatal duel, as a result of which he was killed. Stay in this world for a long time did not work. Killed poet bullet from other former Junkers – Martynov. In the Caucasus, they are constantly communicating, breakfast at Yara. With captain. Martynov was unremarkable personality, on which everyone loved to make fun. The house Verzilin they had a quarrel. Lermontov did not turn from their perspective, and turn away. Duel poet made not only hurt, but the recent resignation of Martynov, which worsened his morale. From the words of the seconds Martynov – bullet went right through him; no one expected, Comrade shot through the heart.
Mikhail Yurevich funeral held 29 July 1841 year in Pyatigorsk. but after 250 Arsenyev days grandson carried the ashes to the family crypt of the village Tarkhany. The poet was buried near his mother and grandfather. Next to the crypt is family tomb. Early death has dealt a crushing blow to the entire world literature and cultural heritage. Relatives and friends for a long time experienced care. In his poems manifest the people's soul, and the pursuit of justice. His work has earned fame throughout the world, It is a powerful reservoir of all Russian poetry, which became a brighter and richer. Books are printed and are a success, and monuments stand in many cities.
Many works have historical value (verse "Valerik"), they describe actual facts. Almost everyone carries a lot of text information. Many agree with these events, that somehow manages to set out his notes. And the stories have become the scenario for domestic films. Even if you are far from the literature, be sure to familiarize yourself with a few notable works.
On Therefore, there is some interesting facts: example – he was assigned to the Nizhny Novgorod Dragoon Regiment, but there never really has not served. His life was tumultuous romances. One of the most passionate and constant enthusiasm Mikhail – girl Barbara Lopuchin. It is worth remembering and communicating with Sushkova.